Bill's father purchased 3 bred Hampshire ewes for him and his brothers in 1950. It became a 4-H project that continues to this day. These 3 ewes are the base for our current flock of 100 registered Hampshire ewes.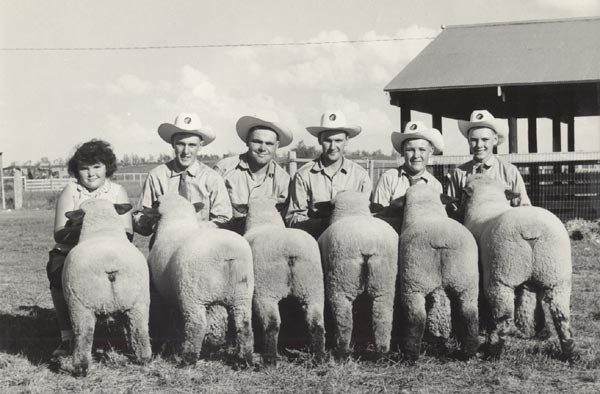 The original Fuller Bros. & sister, Laraine, in 1957.
We exhibited our Hamps extensively during the late 1950's and 60's, before family obligations became a priority. We now exhibit our home bred and raised Hamps throughout the upper Midwest, showing at North and South Dakota, Nebraska and Minnesota State Fairs plus several large county fairs. Bill has exhibited Hamps at the South Dakota State Fair for 53 consecutive years.
Our Hamps have established a reputation for fast gaining, long deep-bodied rams and ewes. These sheep do well for the commercial producer and seedstock breeder. Our many repeat customers are the reason for our success.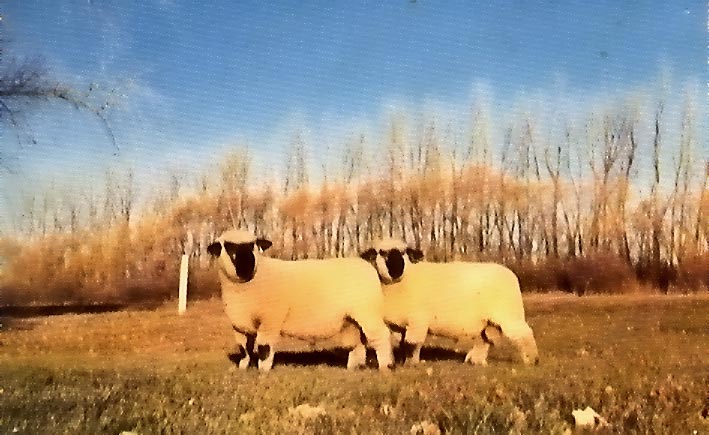 1967 Twin Ram Lambs (picture used on Christmas card)
We will not offer ram lambs for sale unless they have a daily gain of over one pound per day of age. Many wean at 1.2 to 1.5 pounds per day.
We purchase a few stud rams to bring in new bloodlines, but also use many exceptional home raised rams from our different ewe family lines. Our current flock is a uniform, predictable Hampshire type sheep that is useful for the present day sheep producer.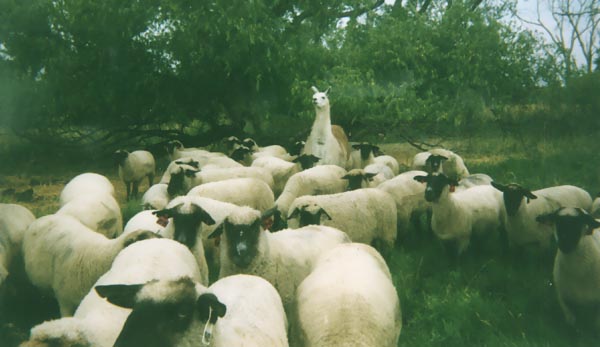 Today, Icky guards his flock.
In addition to the Hampshire sheep, we have also accumulated a vast collection of Hampshire Flock Record Books. These volumes record all the registrations and transfers for each year going back to 1889 when Registered Hampshire Sheep were first introduced in the United States. We are currently missing volumes 1 and 2, 6, 7 and 8. The hunt for these books has been a very interesting adventure with the addition of many new sheep friends along the way. We believe we have the most complete set outside the office of the American Hampshire Sheep Association.
We include pictures of some of the champion ewes and rams we have produced down through the years. You are welcome to take a walk down memory lane with these "vintage" pictures.